Hosting a Website Giveaway Extravaganza: A Chance to Launch Your Dream Site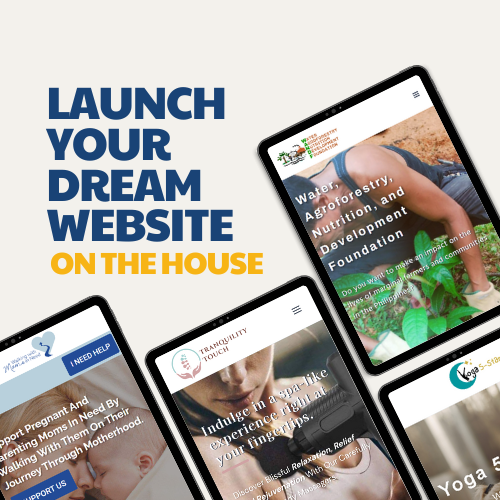 Introduction
In today's digital age, a website is not just a digital presence; it's a gateway to your passions, dreams, and aspirations. Whether you're an aspiring blogger, an online entrepreneur, or someone with a brilliant idea to share with the world, launching a website is your ticket to the online stage. But we understand that the journey can be overwhelming, from choosing a domain to selecting a hosting provider. That's why we're thrilled to introduce our Website Giveaway Extravaganza, a golden opportunity to kickstart your online journey without the hassle.
Empowering Your Online Dreams
Our Website Giveaway Extravaganza is more than just a contest; it's a launchpad for your online aspirations. We're committed to helping you embark on this exciting journey. Here's what's in store for you:
Free Subdomain/Website Hosting: You can choose your subdomain and host with us (Example: yournewwebsite.webgigabyte.com). Alternatively, if you prefer, you can register a domain name and select your hosting provider at your expense.
Professional Website Design Consultation: Our team of experienced web designers will provide you with a personalized consultation to kickstart your website design process.
Exclusive Features:
3-4 Pages (Home, About, Contact or Blog) or E-Commerce (Home, Shop, About, Contact)
Modern and Mobile-Responsive Design
User-Friendly Interface
On-Page Search Engine Optimization
Performance Optimization
User Training Manual
How to Enter the Website GiveawayExtravaganza?
Participating in our Website Giveaway Extravaganza is as simple as it gets. Here's what you need to do:
Follow/Like Our Social Media Page: Please support our business by liking/following us on Facebook.
Subscribe to Our Newsletter: Join our community by subscribing with your email address (https://webgigabyte.com). This is where we'll announce the fortunate winner at the end of the month.
Share the Love: Boost your chances of winning by sharing this extravaganza with your friends and family. Every referral earns you an extra entry.
Stay Informed: Keep an eye on your email for updates and winner announcements. The lucky winner will be revealed at the end of the month.
Why Participate in Our Extravaganza
Empowerment: We believe in empowering individuals and businesses to establish their online presence. Our giveaway is a step toward launching your dream website.
Expertise: Our team of web design experts is dedicated to helping you create a professional, engaging, and user-friendly website. We're here to ensure your vision comes to life.
Flexibility: The choice is yours whether you want to select your domain name and hosting provider or use our services. We're here to accommodate your preferences.
Support: Building a website can be a learning process, and we're here to guide you. We will provide a user's manual after the website launch.
Wrapping Up
So why wait? Join the Website Giveaway Extravaganza today and embark on this thrilling journey. Your dream website is only a subscription away, and who knows, you might be the lucky winner we're congratulating at the end of the month!